3 Ways Motorized Shades Benefits Your Business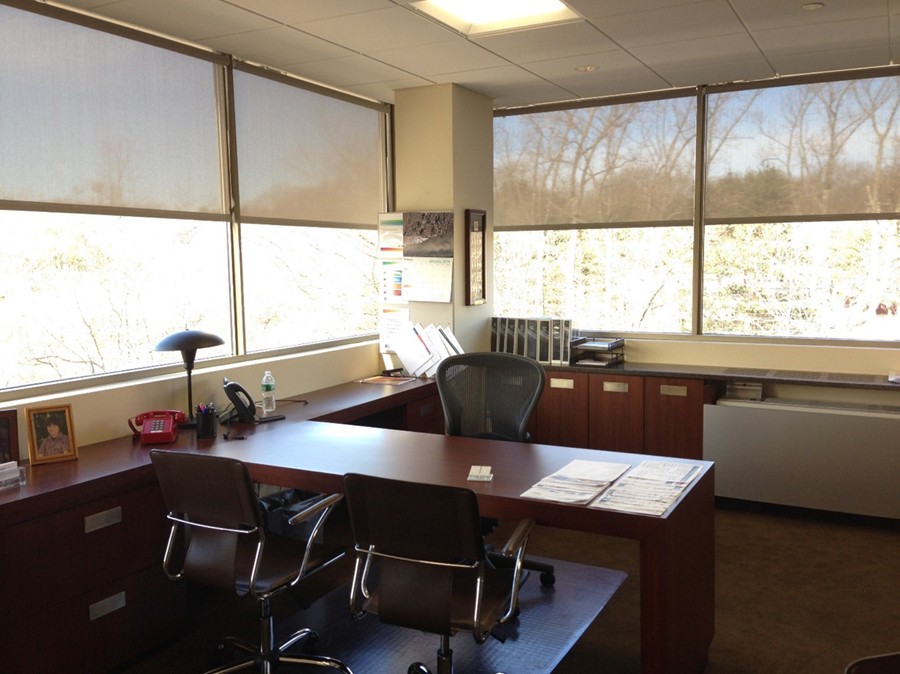 C & T Systems Installs Window Treatments for Companies in Avon, CT and Beyond
The environment you work in is extremely important. It can affect your mood throughout the day, your health, and especially your productivity. Aspects such as lighting, shading, and cooling or heating also make a difference and can either help or hinder a company's success.
C & T Systems offers many solutions for the professional office including climate control, CCTV surveillance, conference room technology, networking, lighting, audio/video and more. But this time around, we'll be focusing on the benefits of motorized shades in the office. You may be surprised by how much of a difference this automation makes day to day.
Challenges in the Workplace
Sunlight can make you feel bright, invigorated and cheerful. Perhaps it's the effects of Vitamin D in your system. However, even though the sun can elevate your mood during the work day and give you more energy, it can also create problems. The sun's rays can create glare on your computer screen, making it hard for you to read documents. Many work spaces are over-lit, with fluorescent lights turned on at full intensity while the space is already being flooded by daylight. The sun can also overheat spaces, making your AC work harder and leaving your staff uncomfortable—ultimately decreasing productivity.
Yet today's technologies give us tools to fix the problems and make our work spaces more enjoyable. New wireless remote options have recently been designed to optimize comfort and lower energy costs. And when you work with an established professional like C & T Systems, your office shade systems can also be automated and integrated with other controls for additional savings and comfort.
When you partner with us, we can program your motorized shades to respond to the nature, raising and lowering at calculated intervals that take into account the seasons. We also offer an expansive selection of sustainable fabrics—all of which adds up to greater energy-savings while helping your business earn points toward LEED® Certification.
A Myriad of Options to Choose From
When you choose to automate your shades, you end up with even more style and design options. Besides the color and pattern of the shades, you can choose from dual-sided white or silver coated shades to deflect more sunlight in the warmest months. For your conference room, we can install both sheer fabrics for a meeting and blackout shades for a projected presentation. Additionally, bottom-up shades can offer privacy on the 1st floor with dim-out fabric, and then dual-sided fabric on higher levels for a uniformed appearance from the outside, all the while deflecting more daylight for increased energy savings.
A Flexible System for a Flexible Marketplace
C & T Systems can program shading zones that allow for the flexible use of a room. Each zone can also be adjusted to meet the specific lighting needs of that department or area. Meeting rooms, small offices, and entire buildings have different needs and aren't relegated to sharing the same systems if working together. Having all the shades in your business work together on one system won't eliminate personalized control if the needs of a space change throughout the day.
Would you like to save more energy, lower business costs, and create a convenient and comfortable work space? Give us a call! The solution is giving your windows a special technical treatment.
Stay Informed
When you subscribe to the blog, we will send you an e-mail when there are new updates on the site so you wouldn't miss them.